Biography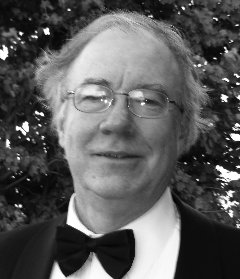 Robert Frederick Jones (01 January 1947- 03 April 2012) was a composer of hauntingly beautiful musical compositions and a pianist of excellence.  His works, in both sacred and secular genres, encompass symphonies, opera, chamber music, piano pieces, and choral works.  His compositions have been performed worldwide in Canada, Europe, the United States, South America, and Asia.
[The following biography is skeletal in nature.  Readers wishing for a deeper understanding of the composer's character, and more personal information on his life and what inspired his compositions are invited to read the "Memoir" on this website].
Robert Frederick Jones, composer, pianist, teacher, was born in Milwaukee (USA), on 01 January 1947; he had ancestors of Welsh and German descent, and on the Welsh side, there was musical talent reaching back at least 5 generations.  He completed a B Mus at the New England Conservatory of Music (1968), and an MFA (1970) and PH D (1980) at Brandeis University.  His teachers included Seymour Shifrin, George Perle and Roger Sessions.  However, from an early age Jones developed an extraordinary ability to sight-read any score, however complex, and this facility led him to a voracious exploration of a wide field of music.  Thus, his legendary encyclopaedic knowledge of music from the Middle-Ages to the Present was, in a sense, self-taught.
During his childhood in Arizona, the intense stillness, colours, and moods of the surrounding deserts made a lasting impression, and we hear and feel their aura in his compositions.  This can be observed particularly in his meditative works such as Sangeet (1990) for voice and piano, commissioned by alcides lanza and Meg Sheppard and performed by them in more than 50 concerts in Canada, the U.S., Spain, Argentina, and Brazil; The Solace of Fierce Landscapes (2000) for piccolo, marimba, and tabla with pre-recorded flutes and percussion, commissioned by the Lithium Ensemble; and beati (2001) for voice, piano, and electronics, a work based on Christ's Beatitudes from the Sermon on the Mount. These intensely personal works (and many others) contain starkly skeletal passages of meditative music consisting of long, quiet, sustained tones contrasted, on occasion, with intrusions of more active music.  They are Jones's tribute to the desert landscapes that so permeated his spiritual being.
Stylistically, Jones evolved from the "East Coast Serialism" of his first mature works (Five Songs, 1966) to an eclectic post modernism that embraces a wide range of stylistic references, all drawn together by his lyrical melodies and evocative harmonies.  In a 1984 interview, he characterized his style as having the "freedom to combine traditional and novel features in the same piece…the freedom to combine the rigidly pre-determined with the freely intuitive, and a desire to involve the listener's whole self, not just the ears or the intellect."
Early works include seinnyssit e gledyf im penn mameu (1980), for two pianos and electronic sounds,( translation: "and swords rang in the mothers's ears"), commissioned by the McGill Electronic Music Studio; Pietà (1984), a three-movement piano sonata commissioned by concert pianist Tom Plaunt with aid from the Canada Council for the Arts, a work composed at the hospital bed of Jones's wife and expressing all the composer's sadness, anxiety and rage at watching a loved-one suffer; From the Diaries of Emily Carr (1985), for voice and piano, commissioned by soprano Margo MacKinnon with aid from the Canada Council.  In it, Jones brings to musical life, in a dramatic aria, Carr's description of the unruly wildness and sacredness of the trees in Northern Vancouver; and The Sleeping Lord (1983) for male chorus, bass solo, chamber ensemble and electronic sounds - a profound and loving exploration of the myths and legends drawn from Jones's Celtic ancestry.
Many of Jones's works are sacred, or at least spiritual, in nature.  Perhaps his best- known sacred work is his Mass for Treble Voices (1987), commissioned for performance by 300 children at the Canadian Children's Choirs in Concert Festival, later performed at Westminster Abbey, Oxford University, and Salisbury Cathedral in England, Saint-Roch in France, as well as across Canada. This work is magical in the tender atmosphere it creates with its seemingly endless lyrical melodies, so suitable for young people's voices. Other notable sacred works include the sonorous Saint-Patrick Sonata (1993), for four trumpets and organ, a triumphal work commissioned by Saint-Patrick's Basilica (Montréal) to celebrate the re-opening of the Basilica after a multi-million dollar restoration; Livre d'Orgue  I,II (1993-94), commissioned by organist Michael Capon for concerts celebrating the 25th anniversary of the magnificent Karl Wilhelm Organ at Saint-Matthias Church (Westmount) with the aid of a grant from the Ministère des Affaires Culturelles du Québec; and Proverb and Prayer (1994) for mixed choir and organ, commissioned by the Cathedral of the Incarnation (Garden City, New York), for the 100th anniversary of the founding of the city.
On the secular side (although, to be truthful, Jones's works are never far from a spiritual message) works include The Glass Ship (2000), commissioned by London Arts Plus with aid from the Conseil des Arts et des Lettres du Québec, a full-evening work for actor and string quartet, based on four Canadian short stories (one depressing, one sad, and two quirky and humorous) produced at the Stratford Festival in 2001; and Miss Havisham's Testament (2002), a one-act, solo-singer opera premiered at Théâtre Lac Brome in the Eastern Townships; the soprano, alone on the stage for 30 minutes, brings to life the demented and pitiable character from Dickens's Great Expectations – truly a tour de force for any soprano who is a powerful actress.
Jones composed several extraordinary works for orchestra.  Step Forward and Toll this Bell for Peace (1989) for chamber orchestra and electronic sounds, was inspired by the bell hung at the monument at Hiroshima where passers-by are invited to stop and ring the bell as an invocation of peace.  In Jones's work, a bell is placed beside the orchestra and, during the performance, members of the audience may step forward and toll it in commemoration with the bell at Hiroshima.  Jones was a life-long man of peace and this work is the musical expression of this belief.  Jones's other extraordinary orchestral work, his choral symphony, La terra promessa (2010), for full orchestra, soloists and choir, is his magnum opus.  It was commissioned by Vanier College to celebrate the 40th anniversary of the founding of the college. Jones was battling terminal cancer at the time and, one could say that La terra promessa, created when the composer knew that he had very little time left on this earth, is a passionate summation of his deep-felt spiritual, emotional, and musical beliefs.  La terra promessa is a full evening 12-movement work that traces our world in a chain of being from the chaos of the void of space to rocks, plants, animals, human love, and finally, at the apotheosis, Divine love.  Though on the surface the piece may appear to be about rocks and plants and animals and people, at a deeper level it is about the Divine energy that permeates all these creations.   It was premiered on 06 May 2011, to rapturous applause - and the composer was thankful to God that he lived long enough to hear his great work.
Since Jones could sight-read anything with pinpoint accuracy and impressive pianistic skill and could transpose any piece to any key with complete ease, he was in constant demand as an accompanist – often appearing in three or four concerts a month.  These legendary skills were greatly appreciated by his students and other professional musicians:  when they were filled with terror at a recital because of a memory slip or ghastly mistake, Jones, without blinking an eye, would improvise an elegant accompaniment that would save the day – no wonder he was greatly loved by all musicians who had had the privilege of working with him.
Jones died peacefully in the arms of his wife, Pamela Jones, and his son, Andrew David Jones, on 03 April 2012.
In 2016 Vanier College honoured their long-time composer-in-residence by naming the choir room "The Robert Frederick Jones Choir room."
When an audience hears a work by Robert Frederick Jones, they remember the soaring melodies, the intense and personal atmosphere he creates, and the way he touches the heart.