Biography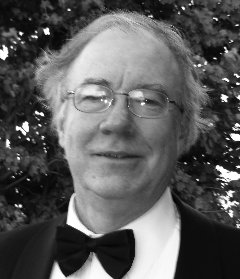 Robert Frederick Jones: Composer, pianist, teacher, born Milwaukee (USA) 1 Jan. 1947; B MUS (New England Cons) 1968, MFA (Brandeis) 1970, PH D (Brandeis) 1980. His teachers included Daniel Pinkham, Robert Cogan, Seymour Shifrin, George Perle, Elliott Carter, and Roger Sessions. In 1972 he moved to Canada, teaching at McGill U and Mount Allison U, and, since 1976, at Vanier College. In addition to being a composer, Jones is a remarkable pianist, noted for his outstanding abilities as an improviser and accompanist. Especially notable is his series of duo concerts of contemporary music with fellow composer alcides lanza. He is an Associate Composer of the Canadian Music Centre and is organist emeritus at St Columba's Church, Montreal.
Stylistically, Jones has evolved from the "East Coast serialism" of his first mature works (Five Songs, 1966; Solomusic for clarinet, 1967) to an eclectic post-modernism that embraces a wide range of stylistic references. In a 1984 interview, he said that his style is characterized by freedom, "freedom to combine traditional and novel features in the same piece, freedom to vary the stylistic mixture from piece to piece and movement to movement, freedom to combine the rigidly predetermined with the freely intuitive, and a desire to involve the listener's whole self, not just the ears or the intellect." Typical of Jones's later style is Dances of the Eternal Dreamtime (2006), commissioned by Quintette Mont-Royal and Ballet Divertimento. In it Jones juxtaposes passages that gently vary permutations of atonal phrases in a mobile-like fashion, folkloric dance music in tonal and neotonal languages, and a tabla improvisation on an Indian tala performed over a series of variations on an octatonic melody.
Jones grew up only a few miles from the vast deserts of Arizona, and their colours, moods, and austere landscapes have influenced him spiritually, emotionally, and artistically. This comes to the fore in a series of "desert pieces," among them Drylands: Four Scenes of Desert Life for guitar solo (1997), commissioned by Patrick Kearney, and The Solace of Fierce Landscapes for piccolo, marimba, and tablas with pre-recorded flutes and percussion (2000), commissioned by the Lithium Ensemble. These works contain extended sections in which very little happens, starkly skeletal passages of intensely meditative music consisting of long, quiet sustained tones with very occasional intrusions of more active music.
Early works include The Purple Cow and Other Mad Wriggles for mixed choir and piano, 4-hands (1978), premiered at the 13th conference of the International Society for Music Education at U of Western Ontario, London; seinnyessit e gledyf im penn mameu for two pianos and electronic sounds (1980), commissioned by the McGill Electronic Music Studio; Pietà (1984), a three-movement sonata for piano commissioned by pianist Tom Plaunt with aid from the Canada Council; and From the Diaries of Emily Carr for soprano and piano (1985), commissioned by Margo MacKinnon with aid from the Canada Council.
Many of Jones's works are sacred in nature, among them a Mass for treble voices and organ (1987), commissioned for performance by 450 children at the second Canadian Children's Choirs in Concert festival, later performed at Westminster Abbey, Salibury Cathedral, Christ Church Cathedral (Oxford), Notre Dame (Nantes), and Saint Roch (Paris); Sangeet for voice and piano (1990), commissioned by Meg Sheppard and alcides lanza and performed by them more than 50 times in concerts in Canada, the U.S., Spain, Argentina, and Brazil; Saint Patrick Sonata for four trumpets and organ (1993), commissioned by Saint Patrick's Basilica (Montréal) in celebration of the restoration of the basilica; Livre d'Orgue I (1993), commissioned by Michael Capon for a concert celebrating the 25th anniversary of the Karl Wilhelm organ at Saint Matthias Church (Westmount) with the aid of a grant from the Ministère des Affaires Culturelles du Québec; and Proverb and Prayer for mixed choir and organ (1994), commissioned by the Cathedral of the Incarnation (Garden City, New York) for the 100th anniversary of the founding of the city. On the secular side, important commissions include The Glass Ship (2000), commissioned by London Arts Plus with aid from the Conseil des Arts et des Lettres du Québec, a full-evening work for actor and string quartet based on four Canadian short stories produced at the Stratford Festival in 2001; and Miss Havisham's Testament (2002), an one-act, one-character opera commissioned by Lucie Mayer, premiered at Theatre Lac Brome (Knowlton, Quebec). In March 2009 his recent piece, Far Away Is Close at Hand in Images of Elsewhere, was premiered by the Winchester Orchestra of San Jose, California.
Retrospective concerts devoted entirely to his works have been presented at Mount Allison U (1974), U of Western Ontario (1989), Saint Matthias Church, Westmount (1994), and Vanier College (1998 and 2007). In 2001 Jones was a guest composer at the Ernest Bloch Festival in Newport, Oregon.
The world premiere of Jones' La Terra Promessa was held May 6, 2011 to celebrate the 40th Anniversary of Vanier College. For this special presentation under the direction of Philippe Bourque, the Vanier Choir was joined by the Saint Lawrence Choir, directed by Michael Zaugg, and l'Orchestre symphonique Joseph-François Perrault, conducted by Richard Charron. La Terra Promessa is a twelve-movement symphony for soloists, chorus and orchestra presenting a series of musical visions based on texts and landscapes of heightened significance to Jones. Though on the surface the piece may appear to be about rocks and plants and animals and people, at a deeper level it is about the divine energy that permeates all these creations.
When an audience hears a work by Robert Frederick Jones, they remember the soaring melodies, the intense and personal atmosphere he creates, and the way he touches the heart.